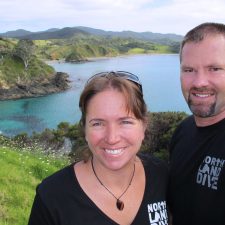 Shane and Julia founded Northland Dive to share their appreciation of the underwater world and the Bay of Islands. In 2007 they instigated and organised the scuttling of the HMNZS Canterbury in Deep Water Cove as a fabulous, easily-accessible wreck dive. Over their 20+ years of experience in the industry in the Bay of Islands, they have discovered a variety of incredible dive spots suitable for a range of experience levels, and fostered an active and enthusiastic community of both recreational and technical divers.
Julia

Founder

Julia is founder and General Manager of Northland Dive. She is a commercial skipper, accomplished underwater photographer and galley chef to the customers and staff at the lodge.

Shane

Founder, Dive Instructor

Shane is a founder of Northland Dive. He is also an SSI technical dive instructor, commercial skipper and Coastguard skipper for the Whangaruru area. Shane has been diving in the Bay of Islands for over 35 years and is a keen underwater photographer.
OUR FLEET
Our modern boats are skippered by experienced crew, and equipped for safety.
007
8.6m Gemini
Inflatable Hulled Rib
Yamaha 350hp 4-stroke V8
20kt cruising speed
Surveyed for 17
Spectre
8.6m Gemini
Inflatable Hulled Rib
Yamaha 300hp 4-stroke V8
20kt cruising speed
Surveyed for 17
Sun Spy
14.8m Cougar Catamaran
Wide bodied, twin hull
425hp Twin Cats
16kt cruising speed
Surveyed for 22
DIVING FRIENDS SINCE 1997
Northland Dive's origins began when Shane and Julia bought an old 100-acre dairy farm. The disused cowshed would be their base from which to dive the Bay of Islands. Over time, the shed was transformed to accommodate the increasing number of friends who wanted to come diving too. Today, the lodge is a far cry from its origins, yet, the foundations of friendship and a passion for diving continue.
Northland Dive abides by the strict health and safety standards determined by the New Zealand government's Adventure Activities Regulatory Authority.